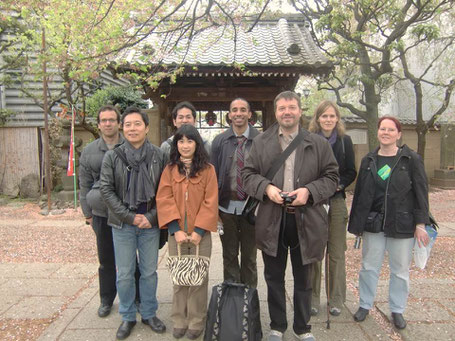 One of my German friends, Martin (the tallest guy in the photo above), organize a walking tour several times a year, and today he has led a group of 10 to Nakano(中野), Tokyo. The photo was taken at the middle of the tour, after one of the participants (British correspondent) left, and I am not in the photo, either. Still this photo captures Martin's walking gang so well - diversity of nationalities, occupations, and age, friends and strangers - such mingling is not particularly common in Japan yet.
  I was very much looking forward to this Nakano walk, because the tour guide was Yoshio Hotta, a renowned journalist in Japan (second from the left in the photo). I have been aware of his work because of his frequent appearance on Japanese media, and I was always impressed with his communication skills with wits and good sense of humor and his knowledge in international economic and political issues (notably the US-Japan relationships) when I heard his interviews live on radio. He constantly publish books on these issues, and I always wanted to be a prolific writer like him. So when Martin e-mailed us a few days ago that Hotta san would be the tour guide for us, I was very surprised. I had never met him before, and I wanted to know what made him such an acclaimed journalist/writer and a mighty communicator, as I teach communication skills at the university.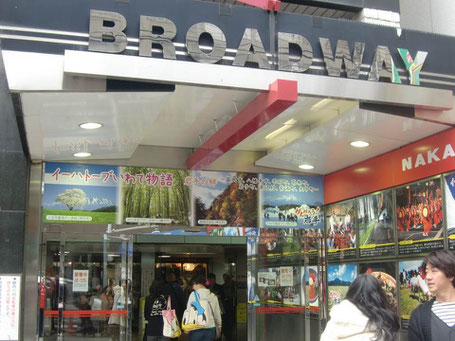 Though I have lived in the Greater Tokyo area for seven years, after living overseas (UK, US, Canada) for 15 years, I had never visited Nakano before, though it is located only 10 minutes or so from Shinjuku Station by train. It used to be famous for Nakano Sunplaza, a famous pop-concert hall for Japanese idols in 1980s and 1990s. Nakano did not appear interesting to me then. After reading the book "Town of Evening Calm, Country of Cherry Blossoms" (see my blog article on April 11 2012) a few months ago, however, I wanted to visit Nakato. The book consists of three chapters. Nearly all of the story in the second chapter takes place in Nakato. The stories in the beginning and the last part of the third chapter also take place in Nakato.
  According to Martin, Nakano is now famous as the uprising gathering spot of otaku, and it might soon rival Akihabara, the world-famous otaku-center in Tokyo. So after leaving JR Nakano Station, we first visited "Nakano Broadway" building, a new otaku sanctuary.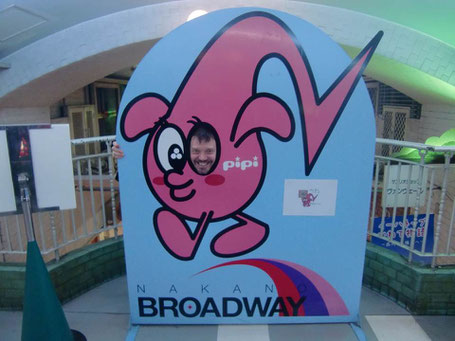 Martin is greeting to the world!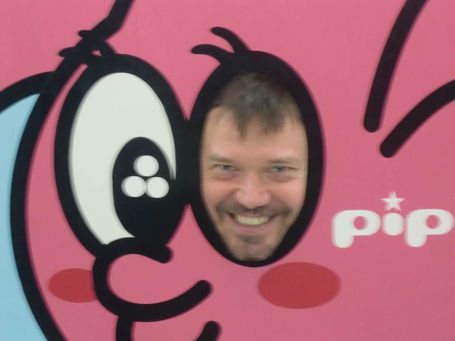 The above photo reminds me of Jack Nicholson's film "Shining".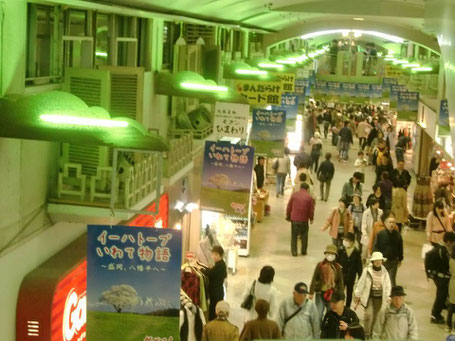 The shops in the building sell the popular products for otaku, including comics, cosplay outfits, used CDs, board games, and lots more.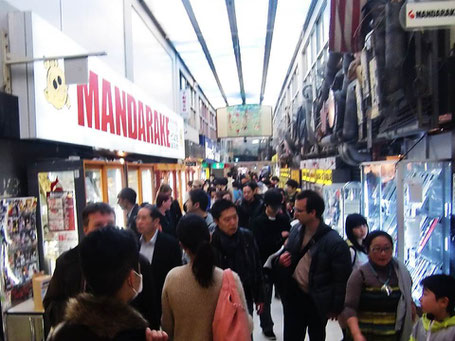 After leaving Nakano Broadway building, we visited Umeteru-In, a respected buddhist temple in the area receiving frequent visits by many local folks.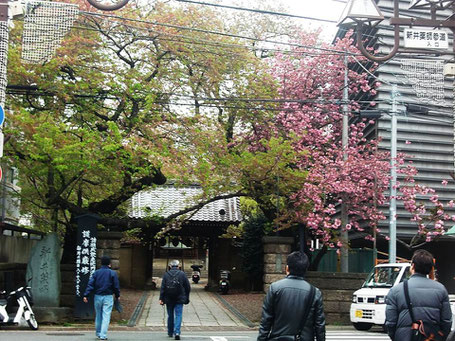 Yoshio Hotta was born and grew up in this neighborhood and visited this temple often during his childhood.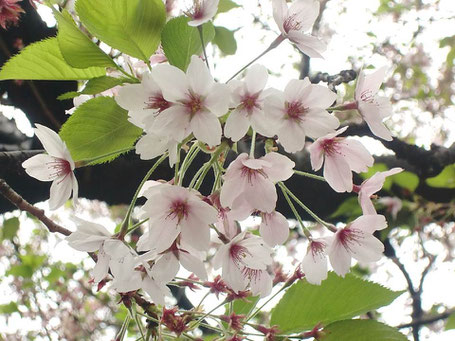 Though we constantly saw several visitors to the main building of the temple, the temple grounds were rather quiet. Hotta san said that, in some summer days, along the way from the gate to the main building, many booths and street stalls stand to entertain visitors.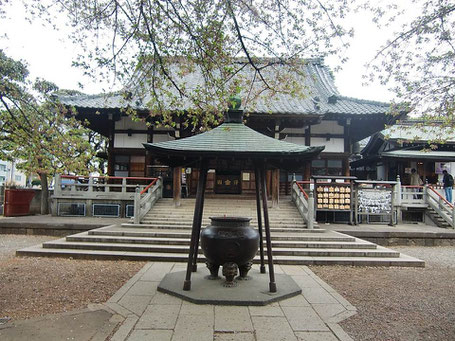 There was a stone statue of Jizo (Ksitigarbha) in the precincts of the temple. While we were here, many locals came and paid a devotional visit to the statue one after another, by standing alone and praying right in front of the statue. Some wore casual clothes, some business suits and coats. They believe that this Jizo heals visitors' health problems if they pray by conducting a ritual.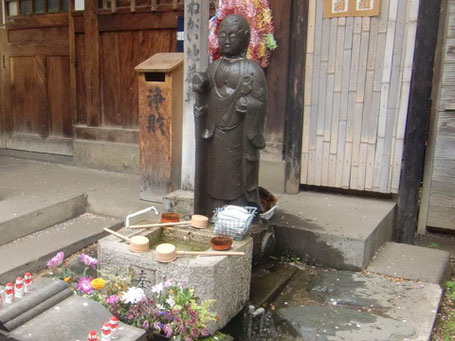 Hotta san explained us the ritual.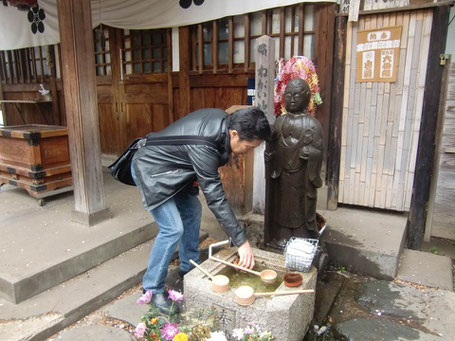 First, get a scoop of water from the water hole in front of the Jizo statue. Pour the water gently on one part of the Jizo so that watered area on the statue corresponds to the troubled part of your body.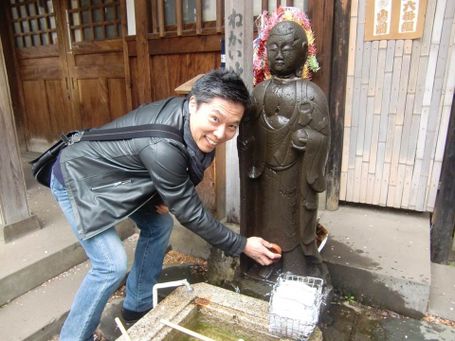 Next, clean the watered area of the Jizo with brush or sponge. It will heal your part, too.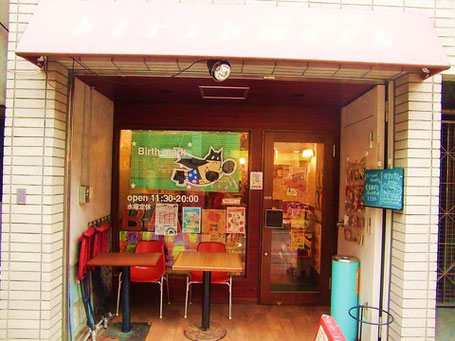 After spending some time in the temple, we headed back toward the JR station through an old shopping street. First, we had a break at a cafe. It was so comfy with the music of electronic organ with American pop style in 60s. The coffee (I tried Cafe Latte) and sweets were excellent.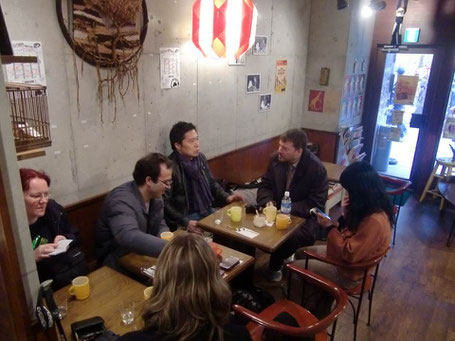 We walked deep into the old shopping street southward to the station.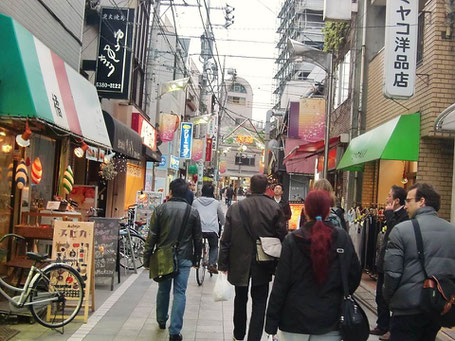 We tried some of the food samples (sembei rice cracker, bread, etc.) offered by the shop keepers. They were delicious, too.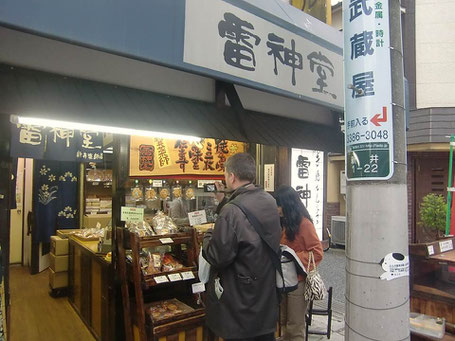 Each shop was so unique, and this was the most merry shopping street of traditional style in Japan I have ever been! I will write a separate blog article on some of these shops tomorrow. The above photo is one of them: sembei shop. We tried a few samples here, too. Yummy!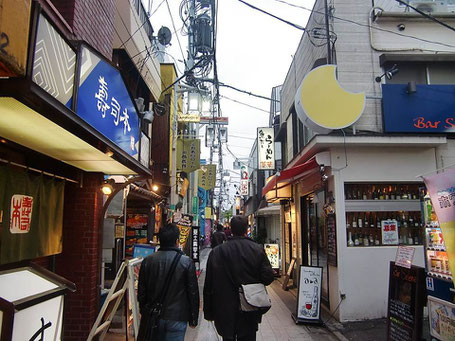 As we got deeper to the south, the street became narrower, and the shops were replaced by bakeries specializing European-style cakes, then by casual restaurants and bars. They sell a wide variety of foods, ranging from Italian, Indian, Chinese, Korean, and Japanese, even though Japanese restaurants are the most dominant.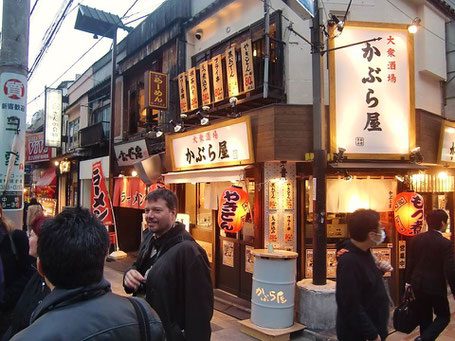 We found a chanko restaurant. Chanko (aka Chankonabe) is a chicken and vegetable risotto which sumo wrestlers eat every day go get more stamina, weight, and stay fit. Unfortunately, the chanko restaurant could not accommodate a large group like ours, so we moved to a nearby izakaya (traditional Japanese-style pub).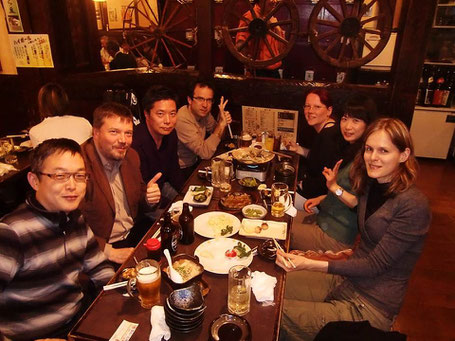 Though I did not have any high expectations for this izakaya called Orenchi, it turned out to be great - both for the atmosphere and the food. We ate and drunk a lot, but we ended up with paying slightly less than 2,000 yen for each. Good deal.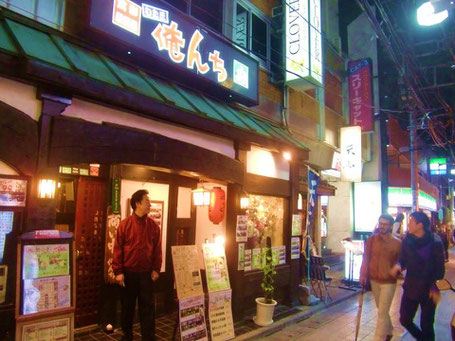 It was so dark when we came out of the izakaya to the street.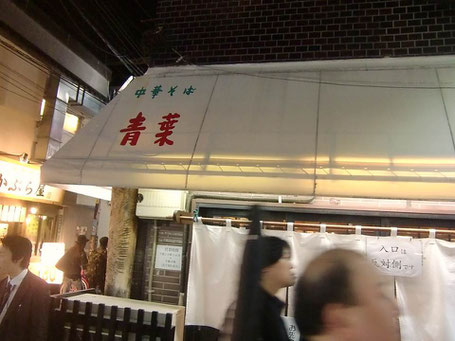 Right in front of the izakaya was a ramen noodle restaurant called Aoba. According to Hotta san, Aoba often comes as one of the top three ramen restaurants in Tokyo in the gourmet sections of magazines. Well, too late. We had enough at the izakaya. So maybe next time I come to Nakano, I will visit Aoba to try its famous ramen noodle.
Shuji
Posted on Saturday 21 April 2012
To read the sequal to this article of Nakano, click here.